Welcome to BulldogTribute.tripod.com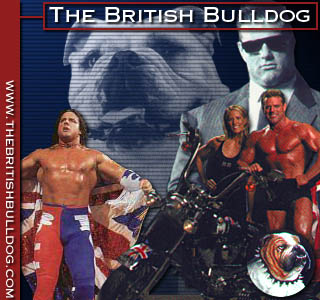 (May 18th, 2002) Davey Boy Smith, the man known to fans as "The British Bulldog", and half (along with The Dynamite Kid) of what many consider one of the greatest tag teams of all time, "The British Bulldog" passed away Saturday night of a heart attack while on vacation in British Columbia with Andrea Hart, wife of Bruce Hart. Smith was 39 years old.
This site is a tribute to the British Bulldog.
The site was originally created in 1999 as the official website of The British Bulldog, Davey Boy Smith, and lived for about a year as www.thebritishbulldog.com, but was removed when Davey signed with the WWF and decided that he would like to have the WWF build his web presence.
The site has a ton of terrific articles on the Bulldog's career, as well as several photos that you will not find anywhere else on the web.
The site contains a biography of The British Bulldog's career, his workout regimen, and his title history.
This site was created as a labour of love, and I hope that Davey's fans get the same amount of enjoyment out of the site as I got out of building it.
Brian Garside, March 22nd, 2002.